HAWAII record Amberjack両
<![if !vml]>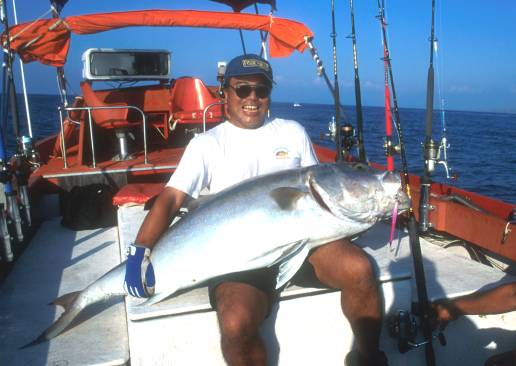 <![endif]>
The amberjack of a photograph is January 1997. While testing MONSTER,
it has been fished with the fight for 10 minutes, and is still the record of
active service as a Hawaii Island new record.
俵俷俶俽俿俤俼
This rods were made the fusion object of a new material glass and carbon to the rod, and was made
from the special design blank which gave the extreme taper. And balance efficiency, elastic,
and lightness were realized. MONSTER 56 appeared in 1996 gave a big shock to the world of
big fish jigging, and established the world of a short rod. Moreover, it is easy to grip a long grip
and it is suitable for prolonged jigging and a prolonged fight. Many actual results
and big fish record are the proof of the excellency of this rod.
Angler can feel the strike while you move a jig and lure fish.
And the natural thing is managed firmly.. MONSTER is designed so that it can bear
also for severe bending. It is proved that there is no almost blank breakage by many anglers
who are using MONSTER.
The merit of balance of one piece blank was given excellent the bend of the rod in the short rod.
And angler can also control big fish at the time of jigging games, such as huge amberjack
and dogtooth tuna.
Since abundant variation from a tough angler to ladies and juniors is prepared,
if the optimal rod for yourself is chosen, a fight with big fish will become familiar.
Moreover, we thought as you could fish easily at severe jigging field
in Japan by MONSTER 2L and 3L.
MONSTER 2L&3L is the true value, since you can use easily, and enjoy the fight with fish,
and land fish
FISHERMAN