<![if !vml]>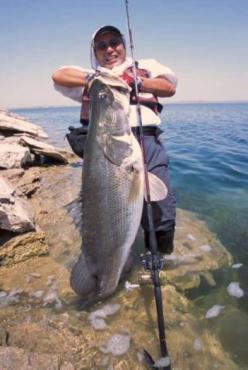 <![endif]>
<![if !vml]>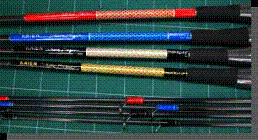 <![endif]>
仭The thread color (all 4 color)
*Red *Flash blue,
*Black(The decoration wrapping is Gold),
*Black(The decoration wrapping is Silver),
仭The grip color: Black(J grip)
仭All guides: titanium SIC
仭The blanks is unsand finish strong
against a shock or wear.
仭The extra: If you choice the color of thread
or grip etc, it costs 3000yen extra.
仭The extra: If you choice the length of grip,
it costs 3000yen extra.
俲俙俬俤俶 ShoreMagic10.6 (5倱倫)
We improved to the shore rods (forJapanese lates and for Blackfin
seabass, with high power) the hybrid RS structure blank developed
to GT rods.
The subject made 10.6 feet (5 shaft power) of pliability with lightness.
This rod will become the secret weapons which capture Japanese lates!
KAIENShoreMagic does not overlook a delicate strike when angler do
reeling, invites it, and it carries it into a byte.
Moreover, the outstanding bat power and the flexible blank correspond
to a jump and an unexpected motion of big fish.
Please try the new world of KAIENShoreMagic.
俲俙俬俤俶 ShoreMagic
The subjects of the lure rod for shore is the fusion of the distance
of the lure casting and stickiness and the ease of feeling of the strike,
transmitted from the line and of lightness.
We developed hybrid RS structure blank uniquely is adopted this rod,
and we made the practical rod.
The name of KAIEN originates
in Sakamoto Ryoma's KAIEN party. (Sakamoto Ryoma is Japanese Samurai
The challenge to the innovative sea of this rod does not miss big fish
who encounters suddenly!
The sign of feeling a chill with a small strike conducts an angler
a premonition of big fish by this rod, and the tip of tis rod reacts sensitively,
and the flexible and the pliability rod which does not give an
big fish sense of incongruity!!
And big fish bite the lure instinctively.
The angler who uses KAIENShoreMagic knows well that there is no power
at h ardness brings near an big fish by the flexible power.
And KAIENShoreMagic correspond to a motion of big fish quickly.
KAIENShoreMagic is exchanged corresponding also to a little
reactions according to a motion of a fish, and without enlarging a hook hole.
Soon, big fish, it can draw near to an angler, and a game greets ending.