<![if !vml]>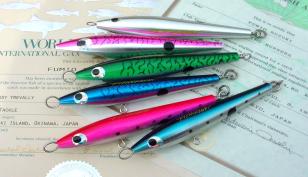 <![endif]>
It is the best for Dophin,Blackfin seabass,
Yellowtail too.@@@@@@@@@@@@@@@@@
In recent years, the anglers who aim at a blue fin
tuna with lure (especially minnow) are increasing
in number nationally.
In order to capture a blue fin tuna with the sufficient head and sufficient eyes, casting distance of the
lure and the sinking posture were considered.
Therefore, this lure (13-14cm) was designed for
blue fin tuna capture
Metal Bait SSM
The capture of Bluefin tuna is casting distance of the lure
in an adverse wind, and the motion as minnow lures.
This lure is the wonderful motion by cutting a body from
aluminum and the super-heavy metal was embedded
on the head, and making a lip.
Since the posture in which this lure falls is parallel to a
sea surface, the figure is look like the sardine got
damaged and separates from school.
The motion as minnow is rolling action which a tuna
likes!
Please play this lure as your trump card of the casting
game of a blue fin tuna!
COLOR
œsardineEEEblueEpink@
œsilver
œmackerelEEEgreenEblueEpink