<![if !vml]>

<![endif]>
30~160lb.
<![if !vml]>

<![endif]>
200lb
hawaiann
CRANE SALKAN 亄 CROSS LOCK SWIVEL丂
CROSS LOCK SWIVEL丂丂亸750-
The cross lock was added to the strong crane salkan!
When a fish bites a joint part, it prevents that it separates
since a cross lock is a two-step wire system! .
It is not noticed by the fish with a stainless steel 304
blade steel specification black body.
Size (in 1 pack):
30lb(6), 40lb(5), 60lb(5), 100lb(5), 120lb(4), 160lb(4),
200lb(4) 仼Hawaiian swivel}
*30~100Lb:
Amberjack, Dogtooth tuna, Dolphin, Seabass etc
<![if !vml]>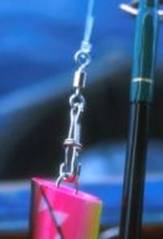 <![endif]>
<![if !vml]>

<![endif]> SPRIT RING 丂亸1.130-
This SPLIT RING is the most strong in the world.丂
It is the strongest split ring in the world which used
stainless steel 304 steel blade and processed by the
barrel disposal.
Suzuki Fumio who worried about fighting with big fish,
and he devised this split ring at 1996.
The original know-how of our company is the revolution
of a split ring. It is indispensable to big fish fishing
俽倝倸倕 (in 1 pack):
40lb(28), 45lb(28), 50lb(26), 60lb(24), 80lb(24),
120lb(22), 120lb(20){oval}, 200lb(18), 300lb(14)
120倢倐懭墌丒200倢倐丒300倢倐